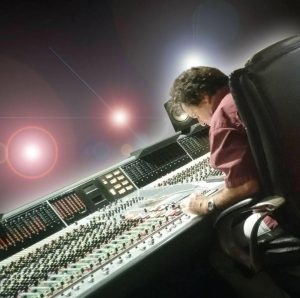 Paul Osborn: Chief Engineer / Producer / Owner
Pauls partial credit list on Allmusic.com
Pauls additional Allmusic.com credits
Affiliations:
Enough about my credits…. The staff at Audio Dallas are the creme de la creme of the music business, and are committed to making it all happen with unsurpassed passion.
 Byron Parks: Engineer / Producer
Byron "came with building" (inside joke).
Early in his career, Byron started Dallas' best voice-over studio, The Announcers Booth which grew into Audio By Byron. Using his impeccable UNT lab band music talent, Byron has engineered many Big Band projects such as albums for The Dallas Jazz Orchestra, and The Dallas Christian Brass….plus many more.
Randy Wills / Producer
Audio Dallas is proud to have producer Randy Wills with us! He has brought in numerous album projects and demos since 2009 and eventually moved his MAC and keyboard into the office space across from Paul in 2012. Randy has helped us greatly with his many years of experience in the recording business. How many years? 50 years! He played his first recording session as a teenager in 1964 for his father, Calvin, at the Sword & Shield Recording Studios in Arlington.
The Audio Dallas Team: Paul & Matt & Randy have worked together with these talented artists: Rudy Gatlin – Jon Stricklan – Tony Brown – Theresa Spanke – Lance McKinleyMeredith Miller Higgins – The Classic Swing Band – Rebecca Griffis – Crystal Money – SpokenFor – Jim Wesson – Justin Holloway – Charles F. Brown – The Light Crust Doughboys – Hailey Sellers – Brighton Gable Yoder – Bob & Jan Salley – Marty Miller- Fluke Holland – Darla Hildebrandt – Josh Carter
Kim Osborn: Management
Management and accounting is under the direction of the prettiest woman south of The Mason Dixon Line, Kim Osborn. I'm also lucky enough to call her "my wife".  And more than once, Kim has helped the rhythm section set the "perfect two step tempo"  by dancing with me in the control room!